B3 All In
Concept
/

Design

/

Code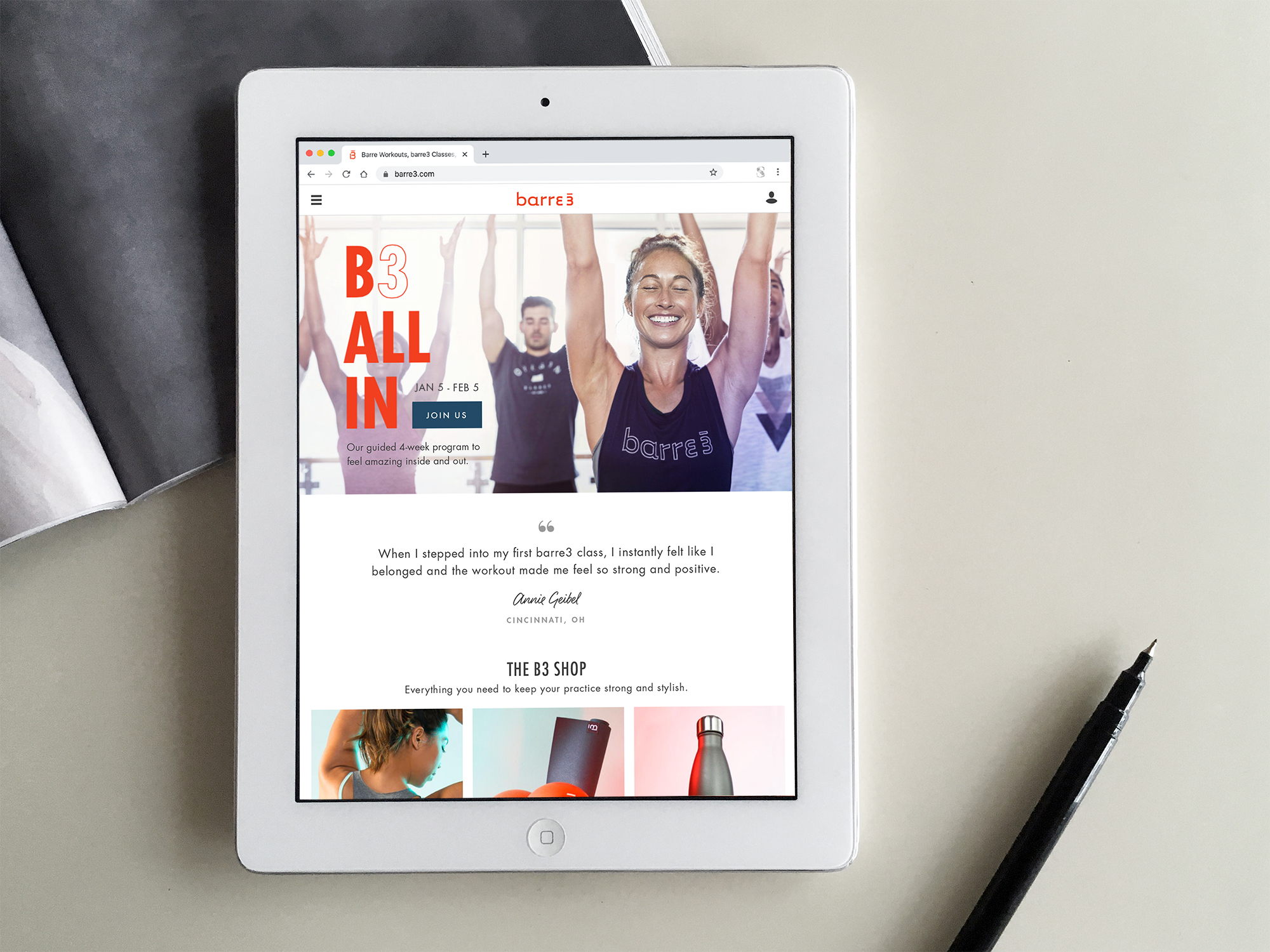 Project Details
Type: Web / Feature
For: barre3
A fitness brand
Date: 5 January 2017
About the Project
Every January barre3 does a big marketing push to drive in-studio attendance and online subscriptions. In the past it had been solely a marketing campaign, so this year I was excited to create a new feature set along with the regular campaign collateral. I made a landing page with a simplified registration flow, but my main focus was on a new goal-setting and tracking widget to enhance our online workouts subscriber experience.
The Registration Process
The program landing page started out as a straightforward web design assignment, but after launch I put it through a series of A/B tests. From subtle copy tweaks to wholesale changes to the user flow, my changes improved the conversion rate for sign-ups by 12%.
The Landing Page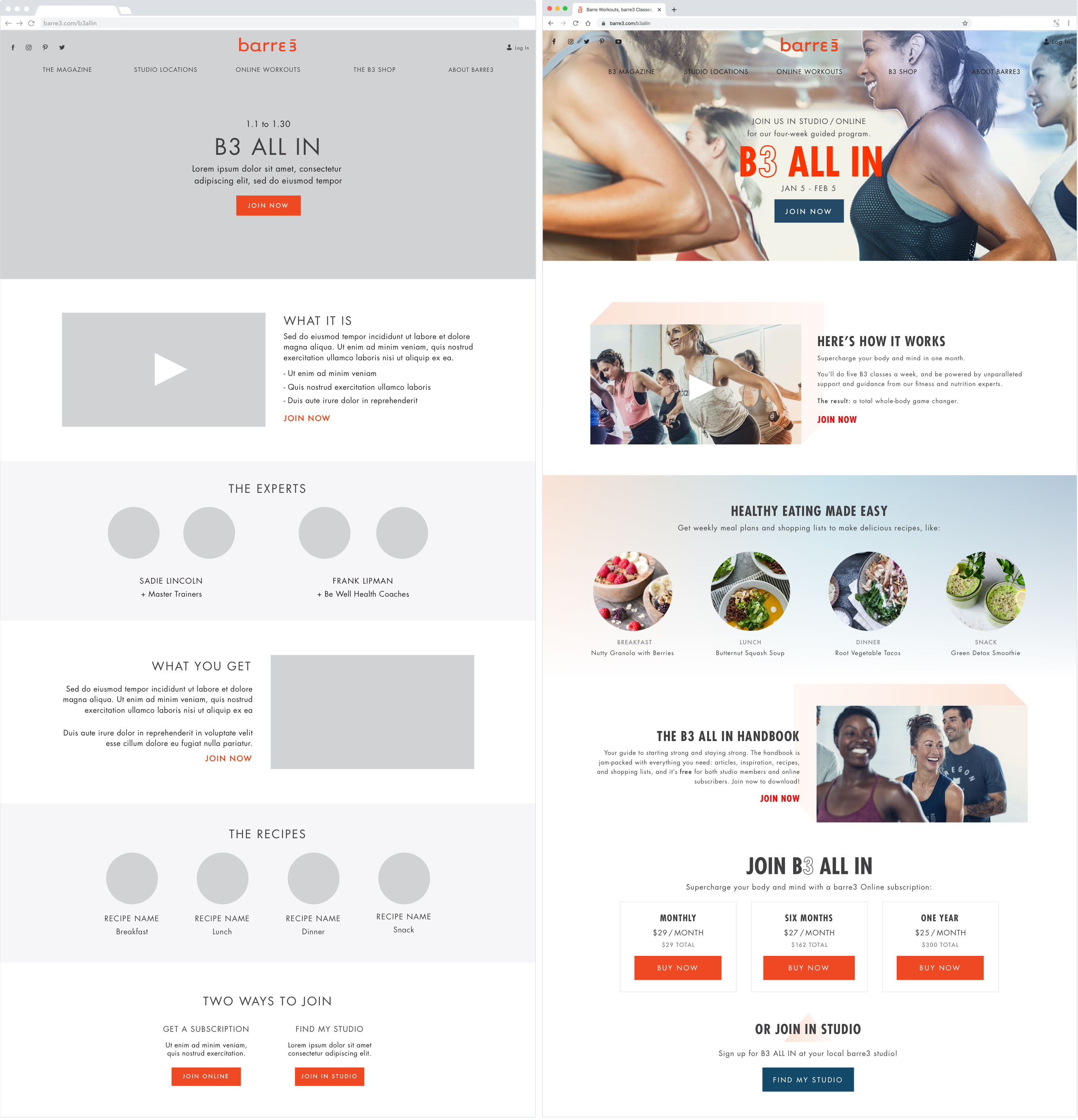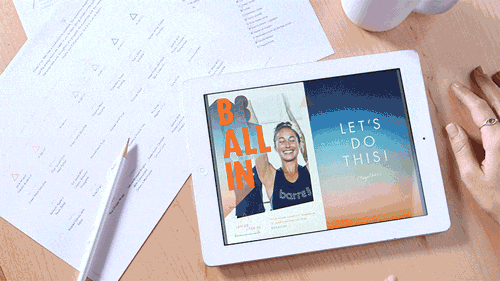 The biggest change I made was to emphasize the online sign-up option over the studio sign-up option. The data showed that most studio clients found out about the program in person, so it was less important to sell them on it online.
Originally the two choices were displayed side by side. After choosing to participate in-studio or online, users were taken to another page with purchase options.
The Original Sign-Up

I streamlined this flow by removing that second step for subscribers and displaying all online purchase options on the landing page:
The Revised Sign-Up
The program was barre3's greatest January campaign success so far. 18,861 people signed up, which crushed our goal of 15,000 and left last year's total of 12,502 in the dust!
The Goal Tracker
Once an online subscriber joined B3 All In, they could access the new goal-setting and tracking feature that I conceptualized, designed, and built with our Director of Technology.
In our exploration phase, we focused on finding the simplest solution to our user's biggest problem. I knew from many user surveys and interviews that the #1 reason people quit doing online workouts was because they lacked motivation. Our goal for this feature was to help solve that problem.
"I realized that I've gone a few weeks without doing a single workout...it's just too hard to stay motivated without having some kind of goal or motivation to go to the website."
Cancellation Survey Respondent
I started by exploring different UI's, some of which included social sharing options. I discarded that idea (because it went against our goal to keep it really simple) and focused on clarity, adding rollover messages to explain all the options.
Goal-Tracking Wireframes

Our MVP (minimum viable product) has one-click reminders on the days that you wanted to work out, sent to you via text or email. The goal-tracker tallies up every day that the user works out every week and rewards you with an emoji.
The MVP Goal Tracker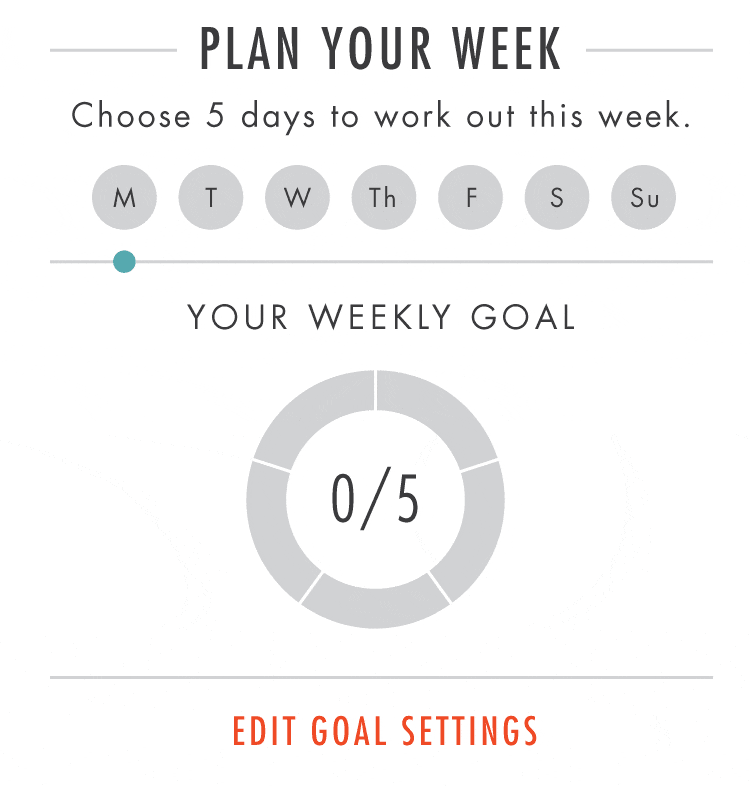 Here you can see how the goal tracker fit into the new layout for our online subscribers (detailed in full in my B3 Weekly project). I gave the tracker an eye-catching placement so people always had that visual reminder to use it week by week.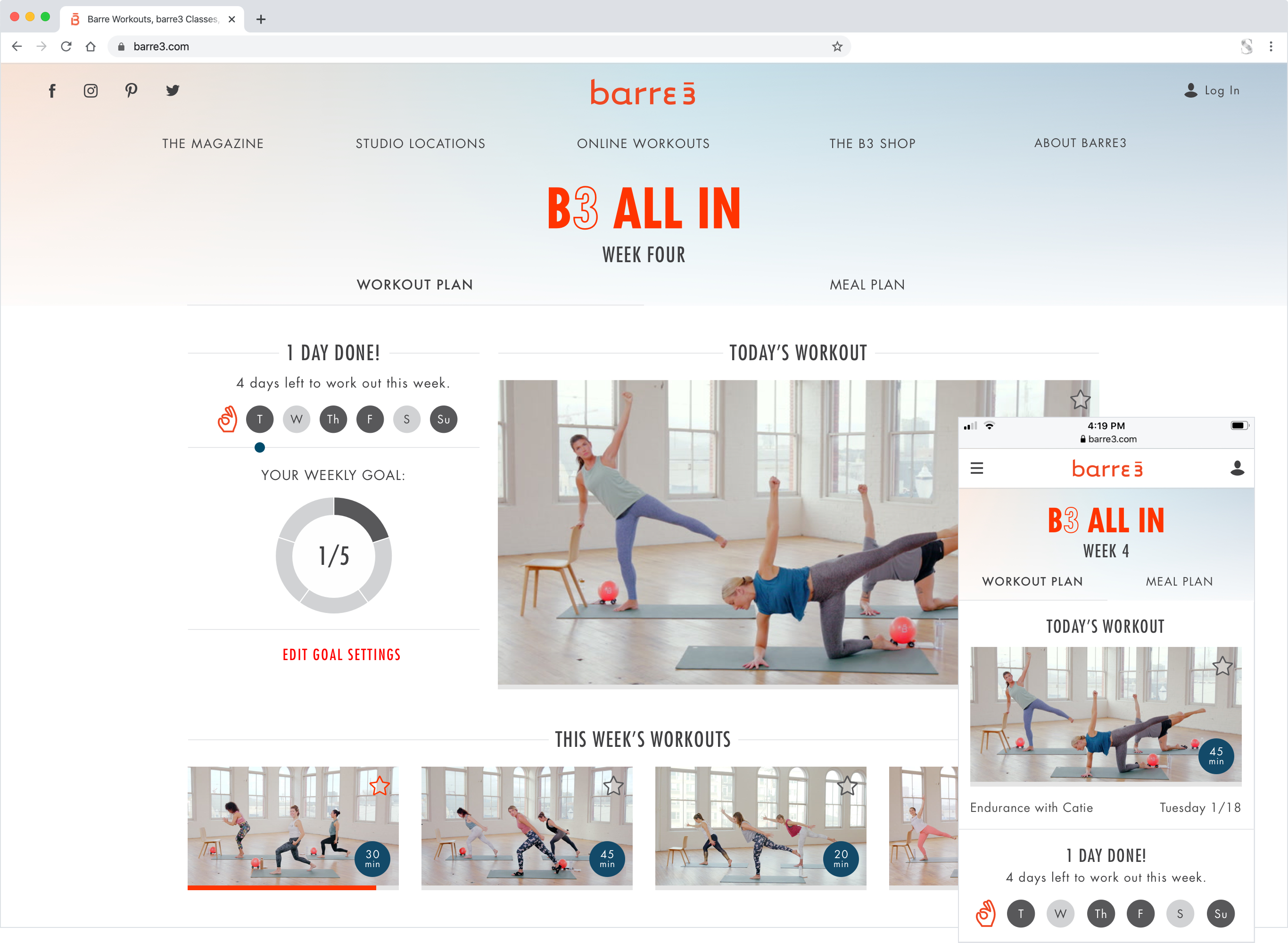 Users who schedule workout reminders receive messages that are randomized from a large list of options, so they'll get a different one every day. I tied the messages in with the goal tracker by incorporating the same emojis.
48% of users set a goal for themselves within the first week after launch, and it's really made a difference to our users: those who regularly set a goal now average almost two more workouts per week than they had been doing without a goal!